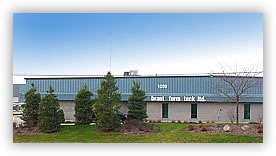 Brant Form Teck Ltd. is found in the Patullo Ridge Business Park, Woodstock, Ontario, Canada. We are in close proximity to Highway 401, offering convenient access to major centers in North America.
Brant Form Teck is in the heart of North American Manufacturing. We have grown to become an automotive supplier as well as a custom fabrication shop with a 20,000 sq. ft. facility equipped with late model, state of the art equipment.
We are an ISO 9001:2000 Registered facility and have been supplying quality service to American and Canadian customers for over 25 years.