Processes
> Paint Services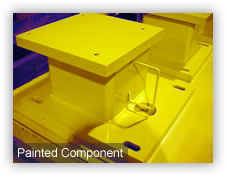 Our endless looped 175' paint line has dryers in place to allow us an efficient paint facility. Our paint booth is set up to paint HVLP or cup guns if that is what is required. We can pre-treat the product as the specification mandates.
Brant Form Teck also has a Kremlin Air Assist Paint System, featuring a 70% transfer rate. Meaning that 70% of the paint that goes into the gun, gets onto your product. An efficient system to maximize the yield on your paint purchases.
If the paint is to adhere properly, the surface must be free from contamination. Brant Form Teck understands this. Using specialized chemicals, we will prewash all parts to ensure consistent and proper paint adhesion.
In keeping with our guidelines for quality painted surfaces, our latest addition is a high capacity drying oven. This oven will increase cure time and create a consistent appearance to our painted products. This oven will maximize our efficiency, so you, the customer, will receive your parts on time and ultimately maximize your profits.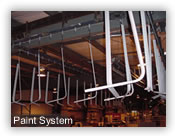 Let Brant Form Teck Help You
Our commitment to quality, service and on-time delivery make us the choice for your fabricating needs today and always.
Contact Brant Form Teck
today to discuss your production requirements.